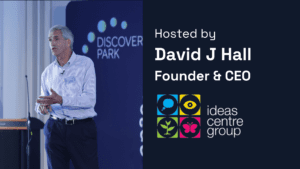 Ready to unlock your creative potential? Join us on November 8th for an immersive Creativity Techniques Workshop hosted by the brilliant David Hall, who wowed us at our Innovation Summit back in June.
Discover how to break free from old thinking patterns, ignite fresh ideas, and supercharge innovation!
Join this interactive workshop to break free from old thinking patterns, unlock fresh ideas, and boost innovation. You'll dive into creative problem-solving and leave with the skills to ignite creativity in your organization. No prior experience needed – just an open mind and enthusiasm!
Location: Brunel Suite, Innovation House, Discovery Park
Cost: £100 (+VAT) per person
Don't miss out on this opportunity to transform your approach to innovation.
Email David Hall at d.hall@ideascentregroup.com to secure your spot now!